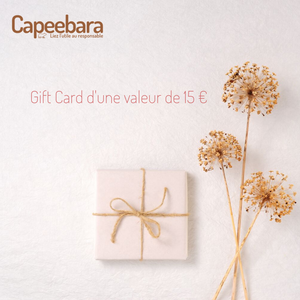 The Gift Card is available immediately upon validation of your payment on our site. You can therefore offer it right away (By e-mail or Printable).
Would you like to introduce Capeebara products to those around you?
It's very simple, by offering this gift card you offer the possibility of choosing from completely healthy, eco-friendly and zero-waste products. Awesome right?
The Capeebara Gift Card:
She is

green

;): the person to whom you offer it really opts for what they need or want. No more gifts that won't be used…
She is

Zero waste

! The Capeebara gift card is dematerialized. To offer it, simply send it by email. Of course, for those who want it, the option to print the gift card is possible;)
She leaves the

choice

: whoever receives the gift card can use it as they wish on the entire Capeebara site.

 

She is

fractionable

: the lucky beneficiary can use it in several installments if they wish.

 
A super useful, pleasant and good gift for the planet…